Blanched Vegetables Dressed in Miso-Butter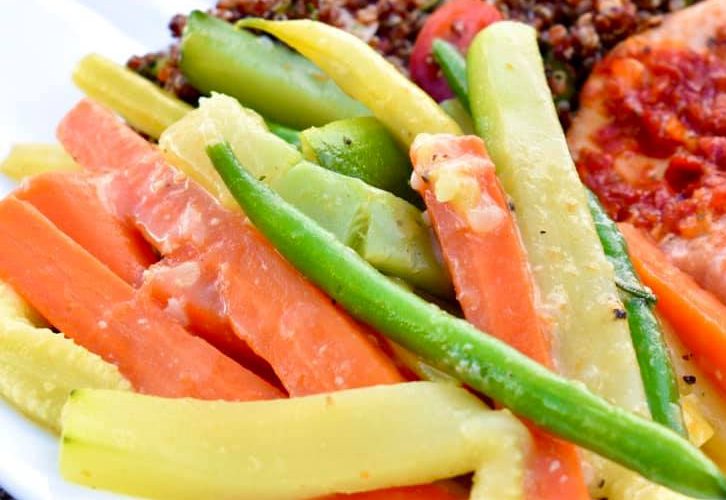 The flavour of miso-butter synergistically becomes more than the sum of its parts and when is sublime when added to blanched vegetables! Miso paste can now be found in most grocery stores near the tofu; don't be put off by the price, a little goes a long way!
Prep Time

10 min

Cook Time

10 min

Total Time

20 min

Ready in

20 min
Cuisine

Course

Suitable for Diet
Ingredients
2 carrots, peeled 
1 small or medium zucchini/courgette
Approx. 1/2lb or 20 green beans, trimmed
Approx. 1/2lb or 20 yellow wax beans, trimmed
2 teaspoons white miso paste
2 tablespoons butter
Salt and pepper
Preparation
1
Bring a large pot of water to the boil. Add a big pinch of salt.
2
Meanwhile, cut the vegetables into uniform shape and size, ideally into sticks or batons.
3
Prepare a large bowl of cold water and set aside.
4
Drop the carrots into the boiling water. Wait 1 minute, then drop beans in as well. Wait 30seconds, then drop in zucchini. Cook vegetables for 3 more minutes, then drain in a colander. Immediately transfer drained vegetables to bowl of cold water to stop cooking.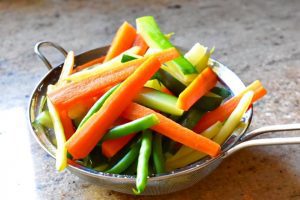 5
In a small saucepan, melt butter on medium-low heat. Once butter is melted, whisk in miso paste until everything is well blended. Keep on very low heat until ready. 
6
Drain vegetables, then toss in miso-butter. Taste, then season with salt and freshly cracked black pepper. Serve immediately and enjoy!
Any extra notes can go here.