Creamy Noodles with Ground Venison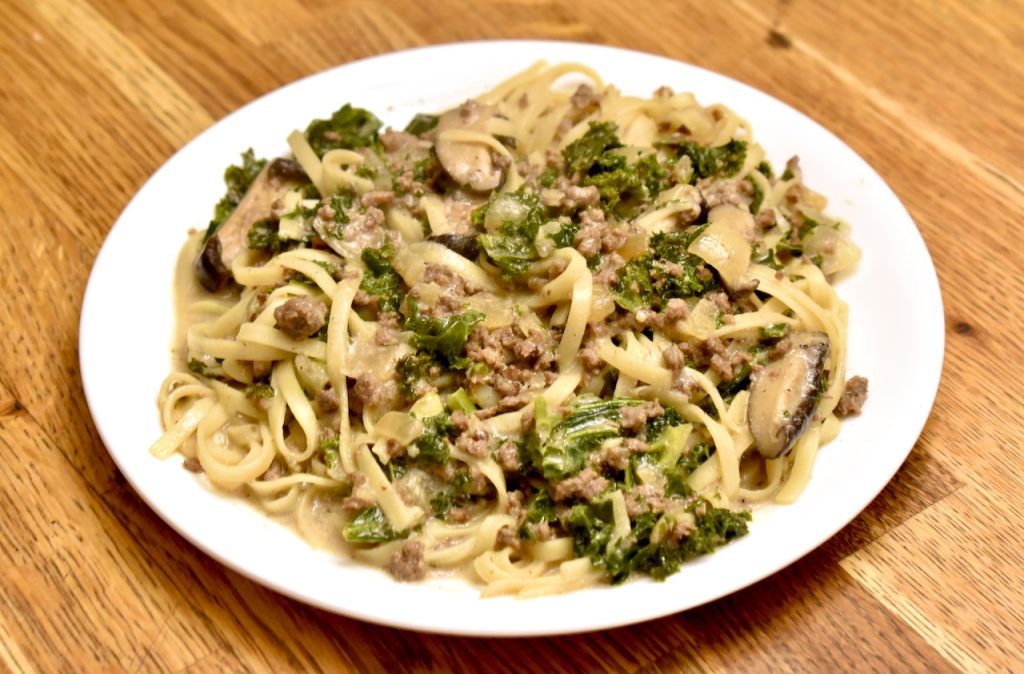 This dish was loosely inspired by beef stroganoff, except I added kale and used ground venison instead of the traditional beef strips. 
It's a bit of an ugly-delicious kinda dish, but it's easy and quick to make and the kids will love it, even with the kale! 
You can really use any type of ground meat in this, and pretty much any type of mushroom.
You can even trade out the kale for collards, chard, or spinach if you'd like, no sweat!
Prep Time

10 min

Cook Time

30 min

Total Time

40 min

Yield

4 Servings
Ingredients
1 tablespoon (15ml) fat, lard, or oil
1lb (454g) ground venison (or beef, pork, turkey, chicken, etc.)
1 large onion, chopped
8 mushrooms, sliced (shiitake, white button, cremini, oyster, etc.)
1 bunch kale, de-stemmed and chopped well
3 cloves garlic, minced
1 pinch kosher salt
1/2 teaspoon (1g) ground black pepper
2 teaspoons (10ml) Worcestershire sauce
2 tablespoons (16g) flour
8oz (225g) flat noodles (Asian, Italian, or egg noodles)
1 cup (250ml) venison, beef, or mushroom stock
1/2 cup (125ml) heavy cream
1 cup (250ml) full fat sour cream
Preparation
1
Heat the fat or oil in a deep skillet over medium high heat. 
Add the venison and cook, breaking it up with a wooden spoon, for about 5 minutes. 
Add the onion, mushrooms, and kale. Cook 8 minutes. 
2
Bring a large pot of water to a boil, with a big pinch of salt. 
Once boiling, add noodles and cook as per package directions to quite al dente (still a bit tough in the middle).
3
Add the garlic, salt, pepper, Worcestershire sauce, and flour to the skillet, stirring it all in well. 
Cook for 2 minutes. 
Add the stock and cream and cook for 5 minutes. 
4
Once noodles are cooked to very al dente, transfer them and 1 cup (250ml) of the cooking water to the skillet.
Reserve the rest of the pasta water in case you need more. 
Simmer the noodles along with the venison and vegetables, stirring constantly, until the noodles are done to your liking and the sauce has thickened, about 5 minutes or so. 
Add more pasta water if the sauce is too thick before the noodles are ready. 
If noodles are ready before sauce thickens, mix 1 tablespoon of cornstarch with 2 tablespoons of water and add it to the skillet to thicken the sauce. 
5
Take off of the heat and add the sour cream, stirring it in until it is incorporated through the whole dish and no bright white (from the sour cream) is left showing. 
Serve immediately. Enjoy!