Ramp Pasta with Sweet Chili Crisp-Butter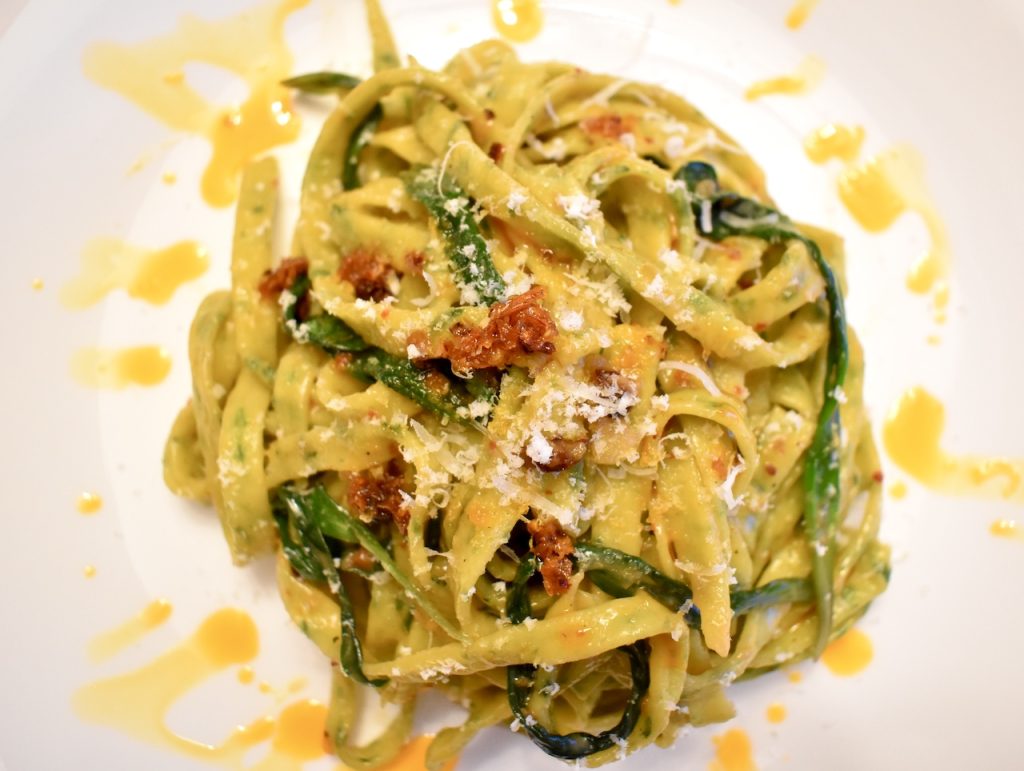 This ramp pasta with sweet chili crisp-butter is a fantastic way to enjoy ramps in a departure from the more common recipes out there!
Use regular pasta for this, or even better, use my recipe for Ramp Speckled Pasta for the base. 
Prep Time

20 min

Cook Time

10 min

Total Time

30 min

Yield

4 servings
Cuisine

Course

Cooking Method

Suitable for Diet
Ingredients
1 batch ramp pasta OR 4 servings of linguine or fettuccini pasta
Kosher salt
2 tablespoons (30ml) light soy sauce
1 tablespoon (15ml) honey
2 tablespoons (30ml) chili crisp, plus more for garnish
2 tablespoons (28g) salted butter
1 cup (100g) grated
12 ramp leaves (wild leeks)
Parmesan cheese, plus more for garnish
Preparation
1
Mix the soy, honey, and chili crisp in a small bowl. 
2
Bring a large pot of water to boil. Add a big pinch of salt. Add the noodles.
Cook until just al dente, or slightly under done.
Reserve a cup of pasta water. 
3
Meanwhile, melt the butter in a separate skillet over medium high heat. 
Add the soy-chili crisp mixture from the bowl, the cooked noodles, and 1/2 cup pasta water. 
Add the ramp leaves and the Parmesan cheese. 
Cook until noodles absorb most of the liquid, stirring often. You're looking for a silky, clinging sauce on the noodles. 
4
Transfer the noodles to plates. Garnish with more Parmesan and chili crisp. Enjoy!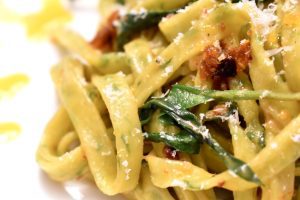 Notice how I didn't have you scroll through pages of mundane nonsense to get to the recipe? Notice that there were no annoying pop-ups or ads? That was on purpose!
I want finding and using my recipes to be easy for you, not frustrating. That does translate into a lot of lost income for me though. If you made this recipe and loved it, would you consider "buying me a coffee" and donating a buck or two through the Buy Me a Coffee app? It will help me keep pumping out recipes like this one!