Spicy 'Nduja and Cilantro Pasta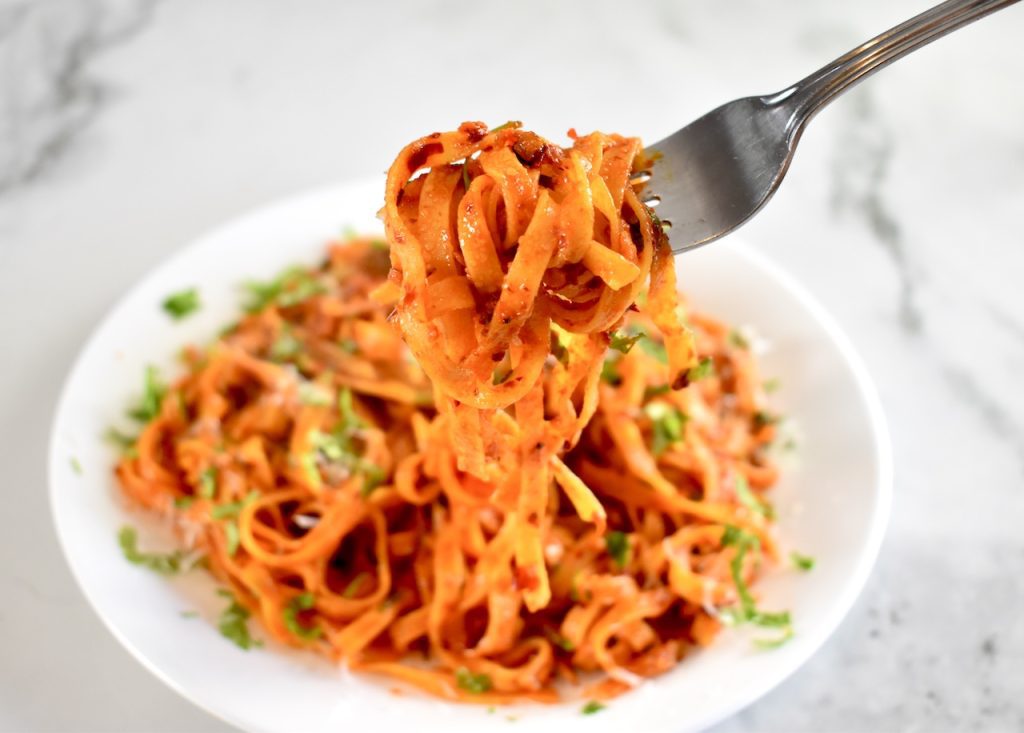 This spicy 'nduja and cilantro pasta recipe makes a big plate of vibrant, bright red noodles with a serious kick!
'Nduja is a spicy spreadable sausage from Calabria, Italy. When used in this manner, it breaks down into a spicy and delicious sauce that coats noodles beautifully. 
Find 'nduja at gourmet Italian grocery stores, high end butchers, or online. 
Prep Time

5 min

Cook Time

20 min

Total Time

25 min

Yield

4 light servings
Cuisine

Course

Cooking Method
Ingredients
10oz (300g) tagliatelle or other long pasta like spaghetti, linguine, bucatini, or mafalde
Kosher salt
1 tablespoon (15ml) olive oil
2 cloves garlic, minced
6oz (175g) 'nduja sausage
1 tablespoon (15ml) tomato paste
1 big handful chopped cilantro
Black pepper
Pecorino cheese
Preparation
1
Bring a large pot of water to boil. Add a big pinch of salt. 
Add the noodles and cook to about 1 minute short of al dente (follow package directions for timing). 
Reserve 3/4 cup (170ml) of the cooking water. 
2
Meanwhile, heat the olive oil over medium low heat in a large skillet. 
Add the garlic and cook for 2 minutes. 
Increase heat to medium and add the 'nduja and tomato paste. Cook for 2 minutes. 
3
Transfer the noodles from the pot to the skillet, along with the 3/4 cup of pasta cooking water. 
Toss everything together well, cooking it until the liquid evaporates into a thick, clinging sauce. 
4
Transfer the pasta to plates and shower with fresh cilantro, black pepper, and pecorino cheese. Serve immediately. Enjoy!