Springtime Wild Soba Soup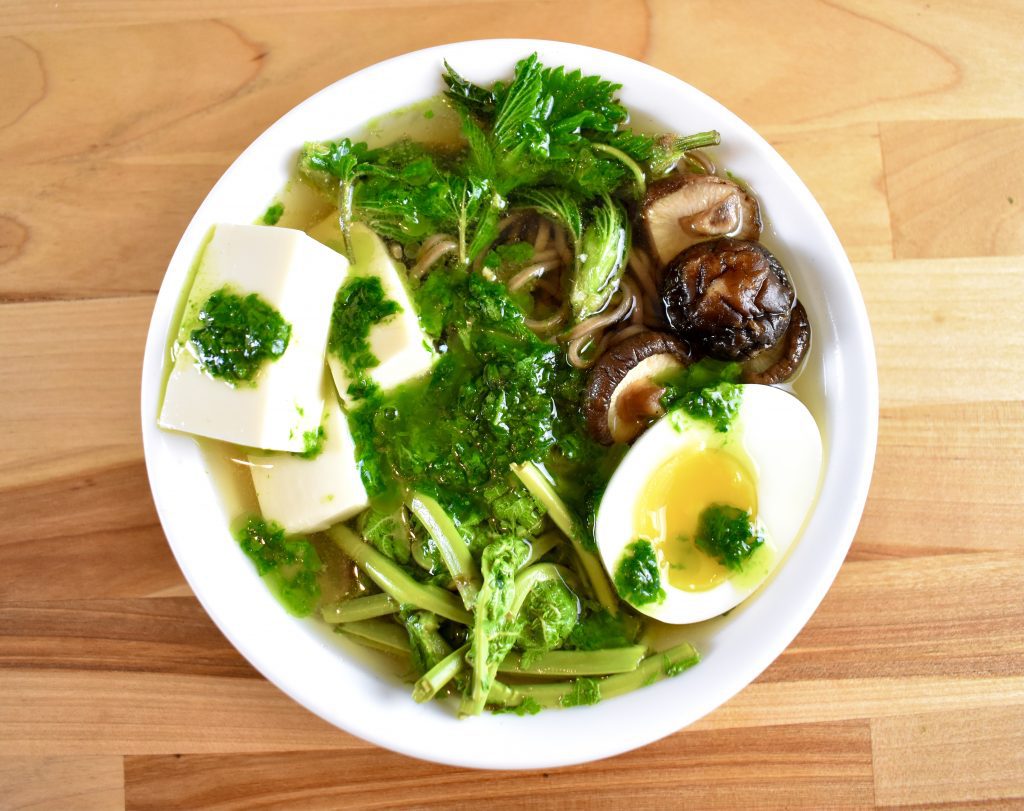 This healthy and delicious soup uses common plants that can be foraged for in the spring. I used fiddleheads (from the Ostrich fern), stinging nettle, and garlic mustard, but feel free to add or substitute any other wild spring greens like trout lily, dandelion, ramps, etc. I wasn't fortunate enough to find morels on this particular foraging trip, so I used dried shiitakes, but feel free to use any wild mushroom, fresh or dried, that you may have on hand. The recipe calls for Japanese dashi stock, made with kombu seaweed and bonito flakes. You could make your own, use instant dashi powder, or just use a good vegetable stock. Serve with cattail shoot "sunomono".
Prep Time

45 min

Cook Time

45 min

Total Time

1 hr 30 min

Yield

4 servings
Cuisine

Course

Cooking Method
Ingredients
4 cups (1 L) dashi or vegetable stock
1 handful dried mushrooms (I used small shiitake mushrooms)
1 cup (25g) garlic mustard (or wild leek) leaves
1 pinch kosher salt
3 tablespoons (45ml) vegetable or nut oil
1 cup (100g) fiddleheads
2 large eggs
5 oz (150g) soba noodles
2 teaspoons (10ml) mirin
3 tablespoons (45ml) soy sauce or tamari
9 oz (250g) soft or silken tofu
1 cup (75g) young nettle tops and leaves
Preparation
1
Bring the stock to a boil, then turn off heat. Add dried mushrooms to the hot water to rehydrate. 
2
Roughly chop the garlic mustard leaves, then add them to a mortar and pestle, blender, or food processor. 
If using a mortar and pestle: Add a pinch of salt and about 1/3 of the oil. Start pounding and grinding the greens into a paste, with no large chunks of leaves left. Slowly add the rest of the oil in increments as you pound the mixture, until it is a smooth, vibrant green oil. 
If using a blender: Add the greens, salt, and oil and blend until smooth. 
Set aside for the time being. 
3
Bring a pot of water to the boil with a pinch of salt. Add the fiddleheads and cook at a weak boil for 10 minutes. 
Drain the pot, then run the fiddleheads under cold water to stop them from cooking. 
Set them aside for the time being. 
4
Refill the pot and bring it back to a boil. Add the two eggs and cook for exactly:
6 minutes for runny yolks as pictured
8 minutes for jammy set yolks
10 minutes for fully cooked yolks
After the allotted time, immediately stop the eggs from cooking by dumping out the hot water and filling the pot back up with cold water for the eggs to sit in for a few minutes. 
5
Take the mushrooms out of the broth and trim off the stem ends. Cut in half if they are large mushrooms. 
Remove the shells from the eggs and cut them each in half. 
Cut the tofu into bite-sized chunks.
6
Bring a pot of water to the boil (last time, I swear) and add the soba noodles. Cook for 3-4 minutes, or follow package directions. 
Strain in a colander and run under cold water so they stop cooking and don't stick. 
7
Take out 4 bowls. Split the noodles evenly into them, then add 1/4 of the tofu, 1/4 of the mushrooms, 1/4 of the nettles (use gloves!), and 1/4 of the fiddleheads.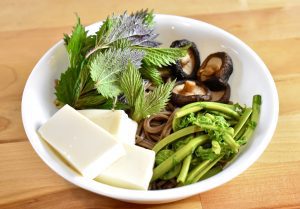 8
Add the mirin and soy sauce to the broth (it should taste over-seasoned as the noodles will cut down the saltiness by quite a bit), then bring to a hard boil. 
Once boiling, ladle the broth over the dry ingredients, being sure the nettles get completely submerged. 
Add an egg half to each bowl, yolk facing up, then spoon over 1/4 of the garlic mustard oil.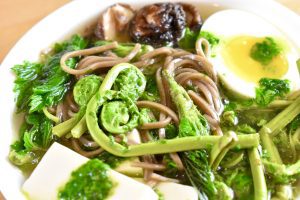 9
Serve immediately. Enjoy!