Squirrel and Lap Cheong Dirty Rice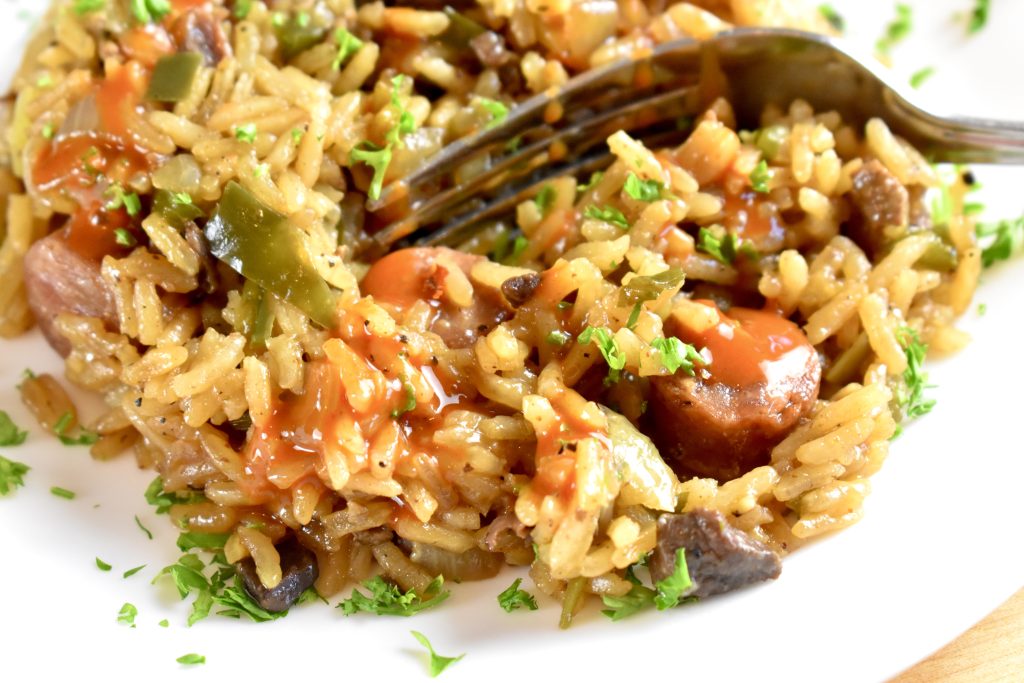 This squirrel and lap cheong dirty rice uses the offal from small game in a classic Cajun presentation with a secret Chinese ingredient!
I used squirrel hearts and livers for this dish, but you could just as easily use rabbit, chicken, duck, goose, turkey, or any other small game. You could also use a combination of all of them! 
If using fowl, feel free to add the gizzards in too. 
Prep Time

20 min

Cook Time

30 min

Total Time

50 min

Yield

4 servings
Ingredients
4 links lap cheong (Chinese sweet pork sausage), chopped into rounds
1 teaspoon (5ml) fat or cooking oil
1/2 cup squirrel, small game, or waterfowl organs (hearts, livers, gizzards), chopped
2 stalks celery, chopped
1 small onion, chopped
1/2 green pepper, chopped
2 cloves garlic, minced
1 cup (140g) uncooked jasmine rice
1 tablespoon (15g) Cajun seasoning
1/2 teaspoon (2g) black pepper
1 3/4 cups (415ml) game stock or water
2 tablespoons (7g) chopped fresh parsley
Louisiana style hot sauce to serve
Preparation
1
Add the oil and lap cheong to a medium pot over medium heat. Let the fat render out of the sausage for about 5 minutes. 
Add the chopped hearts and livers as well as the celery, onion, bell pepper, and garlic and increase heat to medium high. Sauté for 5 minutes. 
Add the rice and seasoning and cook, stirring often, for 2 more minutes. 
Add the stock or water, bring to a boil, cover with a lid, and transfer to a different burner set to low heat. 
Cook for 13 minutes without touching the pot or lid. 
2
Take the pot off the heat, but don't take the lid off yet. Let rest for 10 minutes. 
Remove the lid and fluff the rice up with a fork.
3
Serve with plenty of Louisiana style hot sauce and sprinkled fresh parsley. Enjoy!
Notice how I didn't have you scroll through pages of mundane nonsense to get to the recipe? Notice that there were no annoying pop-ups or ads? That was on purpose!
I want finding and using my recipes to be easy for you, not frustrating. That does translate into a lot of lost income for me though. If you made this recipe and loved it, would you consider "buying me a coffee" and donating a buck or two through the Buy Me a Coffee app? It will help me keep pumping out recipes like this one!