Ukha (Russian Pike Broth)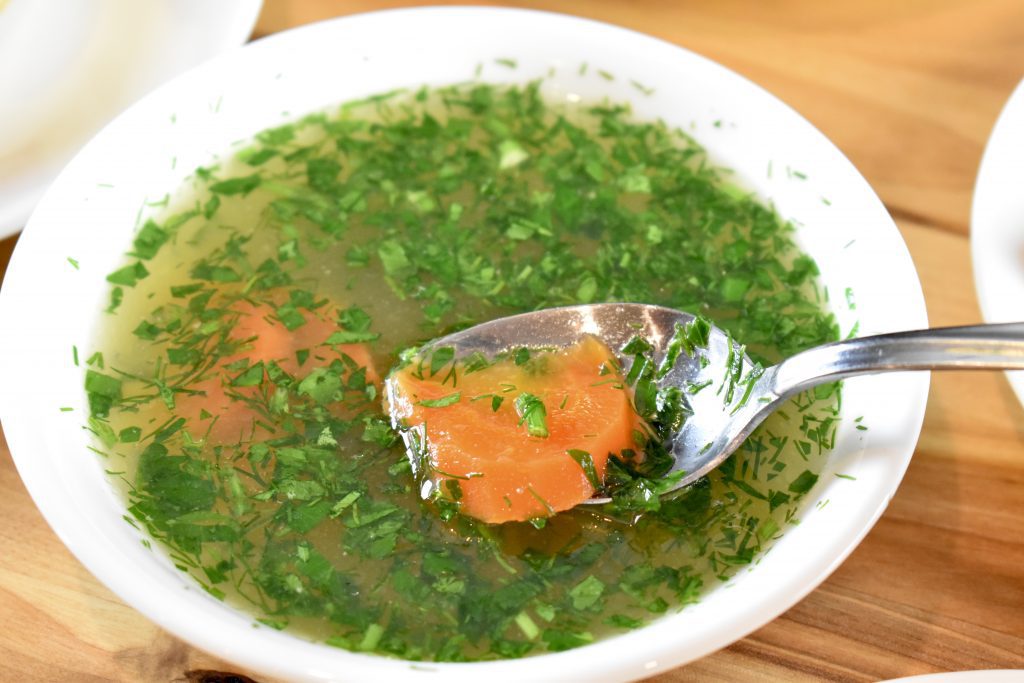 Ukha is a Russian fish soup that is made by simmering whatever is left over of the fish after filleting, minus the gills and guts. Sometimes it is served as a meal with fish, potatoes, and vegetables in it, and sometimes it is left as a simpler broth and served with rasstegai fish pies. This is a great way to use the whole fish, saving the fillets for the pies and everything else for the broth. I like to use northern pike, a fish species we share with northern Russia, for this dish but you could use salmon or any muscular white fish. 
Prep Time

10 min

Cook Time

50 min

Total Time

1 hr

Yield

4 servings
Ingredients
Pike carcass (head, tail, skeleton, etc.) with fillets removed and guts/gills discarded
1 onion, unpeeled and quartered
1 carrot, unpeeled and quartered
2 bay leaves
1 small pinch of saffron (optional – helps turn the soup golden)
1 large carrot, peeled and sliced into coins
1 teaspoon fish sauce (optional)
1 shot (1.5oz, 45ml) vodka (optional)
Kosher salt to taste
2 tablespoons fresh dill, chopped
2 tablespoons fresh parsley, chopped
Preparation
1
Rinse off pike carcass/pieces, then add to a medium pot. Throw in the onion, carrot, and bay leaves, then cover with cold water. 
2
Bring to a low simmer, spooning off any scum that rises to the surface. 
Simmer uncovered for 20-30 minutes. Don't let the broth boil, you want a nice low simmer. 
3
Pass the broth through a fine mesh strainer, or colander lined with cheesecloth, into a clean pot. 
Add the sliced carrot, saffron and fish sauce (if using), and bring back to a simmer. 
4
Cook for 15-20 minutes, or until the carrot is softened. Taste for salt, and add as much as you need for the soup to taste well balanced. If you used fish sauce, you won't need as much salt. 
Once the carrots are soft, add the vodka (if using) and take the pot off the heat. 
5
Add 1/2 tablespoon each of dill and parsley to each bowl, then ladle over the soup. 
Serve with rasstegai fish pies, spooning some of the broth into the hole of the pie before eating. Enjoy!