Russian Fish Pies with Pike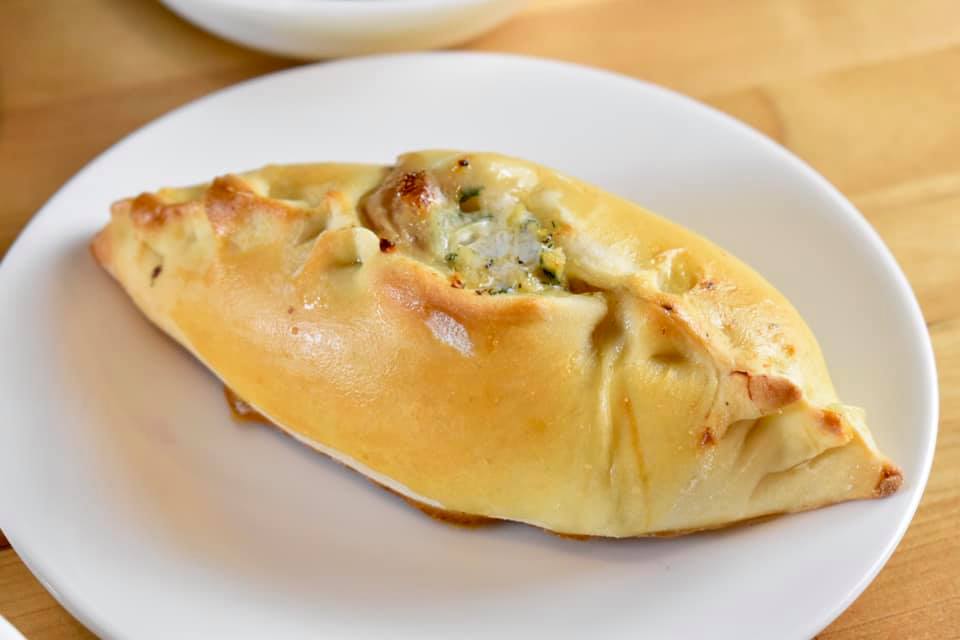 These Russian hand pies, called rasstegai, were traditionally made with sturgeon meat and burbot liver, and nowadays are often stuffed with salmon. I think northern pike is an even better option, and since it can be found in Northern Russia, even keeps to the dish's authenticity. I like to place a piece of pike liver in each pie to enrich the filling, but that is completely optional. Serve with pike ukha soup, being sure to pour a little bit of soup into the hole of the pie before eating. 
Prep Time

2 hr

Cook Time

30 min

Total Time

2 hr 30 min

Yield

8 hand pies
Ingredients
For the Dough
2.5 cups (330g) sifted all purpose flour
1 cup (250ml) milk with 2 tablespoons (30ml) set aside for eggwash
1 teaspoon (5ml) dry active yeast
1 tablespoon (12g) white sugar
1 teaspoon (6g) kosher salt
2 tablespoons (30ml) vegetable oil
1 egg, for eggwash
Butter, for garnish
For the Filling
1 tablespoon (15ml) butter
2 medium onions, chopped
1 clove garlic, minced
1lb boneless pike meat, chopped
1.5 tablespoons fresh parsley, minced
1.5 tablespoons fresh dill, minced
1/2 teaspoon (3g) kosher salt
1/4 teaspoon (0.5g) black pepper
1 pike liver, cut into 8 pieces (optional)
Preparation
For the Dough
1
Warm the milk in the microwave or a bowl of hot water until just past lukewarm. 
Combine warm milk, yeast, sugar, and a pinch of the flour in a large bowl. Mix well and let sit for 30 min.
2
Sift in flour, add salt and oil and stir with a spoon until it forms a sticky, shaggy mass.
Knead with clean hands in the bowl for about 5 minutes, or until the dough becomes smooth and elastic. 
3
Remove the dough ball and grease the bowl with a touch of oil.
Put the dough back in and cover with plastic wrap or damp towel. Leave somewhere warm for 30-40 min.
For the Filling
4
Melt the butter in a pan over medium heat. Add the onions and garlic and cook, stirring often, until translucent, about 15 minutes. Remove from the heat and let cool. 
5
In a medium bowl, add chopped pike, the cooled onion and garlic mix, herbs, salt, and pepper. 
Set aside.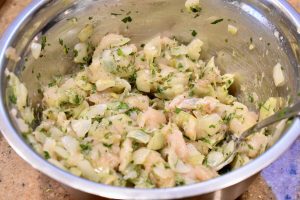 Putting Everything Together
6
Preheat oven to 350°F (177°C, gas mark 4).
Gently punch down dough in bowl, then turn it out onto a lightly floured surface. 
Cut the dough into 8 even pieces, then roll each into a ball. 
7
Using a tortilla press or rolling pin, roll out each ball into a 6-8" diameter circle. 
Split the filling 8 ways, spooning it into the middle of each circle. Nestle a piece of liver (if using) into each mound.
8
Pull up the sides to form a boat shape, pinching the edges of the circle together, but leaving a hole in the middle. Make sure the edges are sealed well.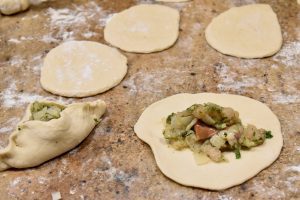 9
Put the 8 pies on a sheet pan with foil or liner and cover with a towel. Leave to sit for 10 minutes.
10
Beat the egg and the 2 tablespoons of milk in a bowl. Use a pastry brush to brush the egg wash over the surface each pie.
11
Put in oven for 20-30 minutes, or until golden. Once out of the oven, place a little piece of butter into each hole. Let cool just long enough to handle, then serve. Enjoy!