Walleye Spaghetti all'Acqua Pazza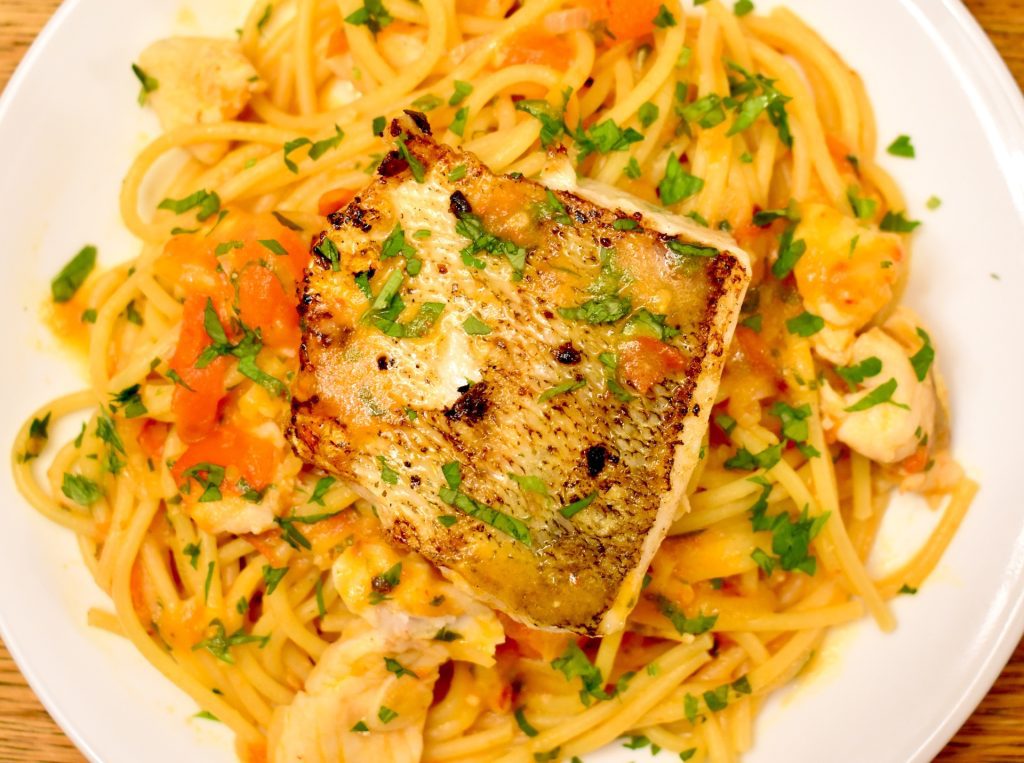 This walleye spaghetti all'acqua pazza was inspired by the Italian seafood dish pesce acqua pazza which means fish in crazy water.
The crazy water in question points to the seawater Neapolitan fishermen used to cook the fish in, along with tomatoes, garlic, and olive oil, for a simple shore lunch. 
Nowadays salted pasta water is used to replicate the seawater. The resulting dish is bright, salty, and more than the sum of its parts. 
I made mine with walleye in the pasta and a piece of walleye perched on top, just to double the walleye goodness of the dish. The seared fillet is totally optional though. 
You could also replace the walleye with any flaky white fish; try snapper, haddock, bass, or rockfish. 
Prep Time

40 min

Cook Time

20 min

Total Time

1 hr

Yield

4 light servings, or 2 large servings
Cuisine

Course

Cooking Method
Ingredients
2 large walleye fillets (or other white fish)
Kosher salt
5 oz (150g) spaghetti noodles
1 tablespoon (15ml) olive oil
3 garlic cloves, very thinly sliced
1 shallot, thinly sliced
1 small red chili, sliced OR 1/2+ teaspoon (2.5ml) Italian chili paste
3 tomatoes, roughly chopped
1/4 cup (60ml) white wine
Black pepper
1 teaspoon (5ml) oil
2 tablespoons (8g) chopped fresh parsley
Preparation
1
Cut each walleye fillet in half. 
Remove the skin from two of the portions (half the total portions) and cut into large-ish chunks. Season with salt and set aside. 
Set the two skin-on portions aside as well. 
2
Bring a large pot of water to the boil. Add a very generous amount of salt. The water should be as salty as seawater (I usually don't season pasta water so heavily, but it is purposeful in this dish). 
Add the spaghetti and cook just short of al dente, following package directions. 
3
Meanwhile, heat the olive oil in a skillet over medium heat. 
Add the garlic, shallot, and chili/chili paste, and cook for 5 minutes, moderating the temperature to ensure that nothing actually browns. 
Add the tomatoes and cook for 2 minutes. 
Add the white wine and cook for another 2 minutes. 
4
Transfer the mostly-cooked spaghetti noodles to the skillet, as well as 1 cup (250ml) of the pasta cooking water. Stir well. 
Add the fish and cook until the liquid thickens, and the noodles and the fish get cooked through, about 2-3 minutes. Try to avoid stirring too much and stir gently if you do so as not to flake the fish chunks apart. 
Once done, take off of the heat.
5
Meanwhile, season the fish fillets with salt and pepper. 
Add 1 tsp oil to a small skillet over high heat and add the fish skin-side down. 
Sear for 2 minutes, flip and sear for 1 more minute. Reduce the time if the fillets are quite thin.
6
Transfer the pasta to plates, top with a piece of seared walleye and sprinkle with chopped parsley. 
Serve immediately. Enjoy!