Wild Pork Loin with Wild Strawberry Tarragon Vinaigrette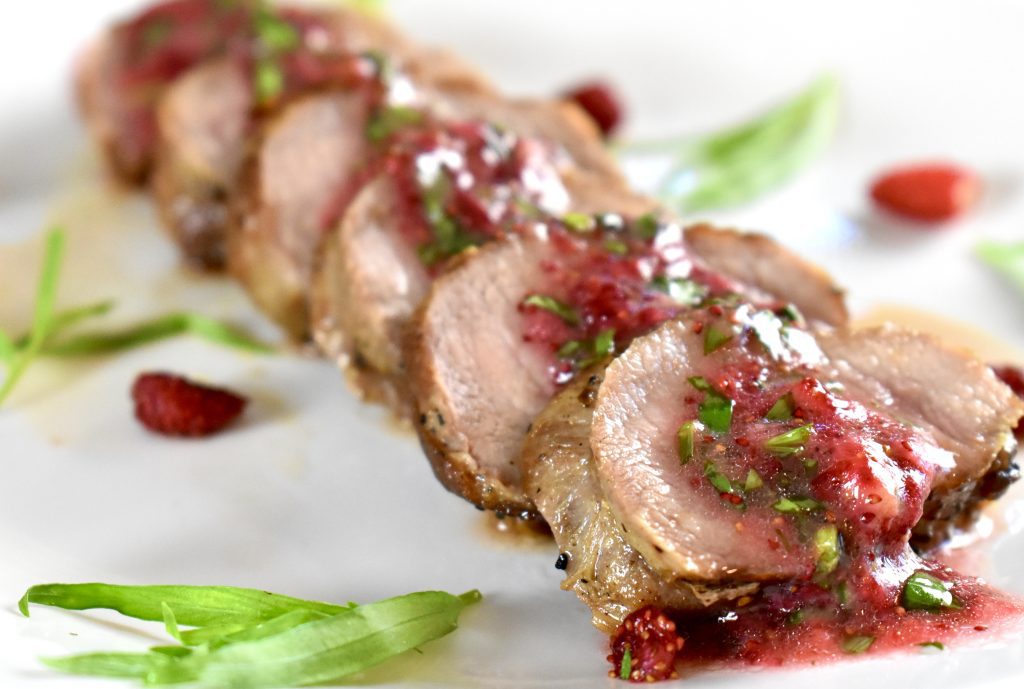 When the wild strawberries start popping up in June, I find extra time to go hang out in parks, trails (not popular dog walking trails!), and lawns, and find as many strawberries as I can to toss into my mouth. 
Those that somehow make it home usually get turned into cocktails or desserts, but this year I wanted to do something savoury with them. 
I figured wild pork loin would be the perfect foil for a vinaigrette made from wild strawberries and tarragon from the garden, which is also at its best in June. I wasn't wrong!
The mild liquorice flavour of the tarragon plays very well with the strawberries and the pork. 
This is the time to break out your highest quality vinegar and oil. I like using champagne vinegar (which I save for special occasions), and cold pressed sunflower oil. I avoid olive oil in this dressing since it can have such a big, slightly harsh flavour.
If you don't have wild pig, feel free to use store bought pork, only swap the loin for a whole tenderloin. 
Prep Time

20 min

Cook Time

10 min

Total Time

30 min

Yield

2 servings (can be doubled for 4 servings)
Cuisine

Course

Cooking Method

Difficulty
Ingredients
1 large sprig tarragon, stripped and chopped
1 big handful wild strawberries
3 tablespoons (45ml) champagne or high quality white wine vinegar
1/2 tablespoon (6g) white sugar
2 tablespoons (30ml) neutral oil like good quality sunflower or grapeseed 
1 wild pork loin, about 8″ (20cm) long, or 1 store bought pork tenderloin, whole
Kosher salt
Black pepper
1 tablespoon (15ml) lard or vegetable oil
Preparation
1
Add the chopped tarragon and strawberries to a bowl.
Crush the strawberries with a fork. 
Add the sugar and vinegar to the bowl and stir to combine. Let the strawberries macerate while you cook the pork. 
2
Season the pork loin generously with salt and pepper. 
Heat the lard or oil in a cast iron or steel pan over high heat. 
Add the loin and sear until browned on all sides. 
Lower the heat to medium and cook until a thermometer registers at least 145°F in several parts of the loin. 
Let rest for 8-10 minutes. 
3
Add the neutral oil to the strawberry mixture and whisk very well to emulsify. 
Slice the pork loin into disks and drizzle with the vinaigrette to serve. This would go great with a side like rice or noodles. Enjoy!