Xi'an Style Spicy Rattlesnake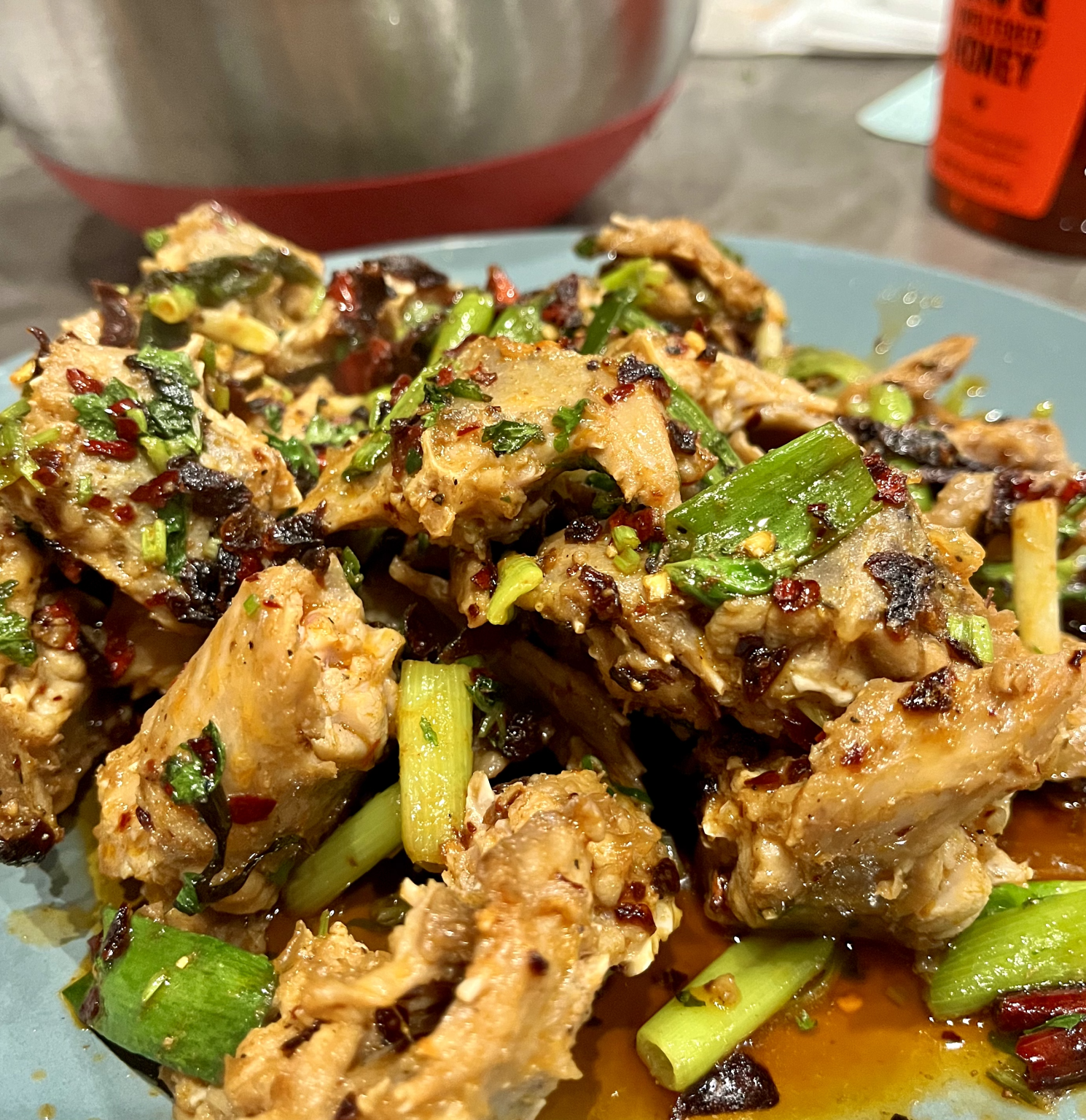 This recipe was an exciting one to make!
While working down in Texas at the Harvesting Nature Wild Pig Hunting Skills Camp, we were lucky enough to be gifted with a (legal and non-endangered) rattlesnake that had been shot in defence. 
Researching snake recipes, they mostly all came back smoked or fried, but we wanted to do something different, so we went a little rogue. 
We decided to go with a Chinese inspired recipe, from the Xi'an region, which consisted of the snake stir fried in a sauce that included garlic, cumin, scallion, and Lao Gan Ma chili crisp. 
Chili crisp (a delicious umami-laden crispy chili oil) can be found in many grocery chains nowadays in the international or Asian aisle, or in any Asian grocery store. 
For the snake… you're just going to have to go on an adventure to find one of those!
To eat the snake, pick up a piece with fingers or chopsticks and pull the meat off of the ribs with your teeth, then discard the bones. 
I apologize for the picture quality, this was taken with a phone in bad lighting! 
Make sure the snake is cooked all of the way through, as some snakes are known to carry salmonella. 
Prep Time

45 min

Cook Time

15 min

Total Time

1 hr

Yield

4 servings with rice, or 12 servings as an appetizer
Ingredients
1 rattlesnake, cut into 2″ (4cm) pieces
1/4 cup (60ml) light soy sauce
1 tablespoon (15ml) sesame oil
2 teaspoons (10g) white sugar
1 tablespoon (10g) cornstarch
2 tablespoons (30ml) oil or lard
1 teaspoon (2g) ground cumin
1/2 teaspoon (1g) ground white pepper
1 pinch whole cumin seeds (optional)
4 scallions, cut into 1″ (2cm) sections
3 cloves garlic, chopped
2 tablespoons (30ml) chili crisp
1 small handful of cilantro, chopped
Preparation
1
Cut the snake into 1 to 2 inch pieces. This is pretty tough to do, so use a heavy knife or cleaver and use some elbow grease to make it through the spine bone.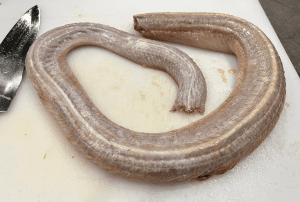 2
Mix together the soy sauce, sesame oil, sugar, and cornstarch in a large bowl. 
Add the snake pieces and marinate for 30 minutes. 
3
Heat the oil or lard over high heat in a wok or large skillet. 
Add the snake pieces (reserving the marinade) and stir fry, tossing them around in the hot oil. 
You may need to do this in two batches if the pan looks crowded. 
4
Once snake is cooked through and beginning to brown, about 5 minutes, add in the ground cumin and white pepper, the cumin seeds (if using), the scallions, and garlic. 
Stir fry for 2 minutes. 
5
Add in the reserved marinade and cook until thickened, about 30 seconds, then add the chili crisp and cilantro, and take off of the heat. 
Stir the chili crisp in well. Serve with white rice or on its own as an appetizer. 
To eat, use chopsticks or fingers to grasp a piece, then pull the meat off of the ribs with your teeth and discard the bones. Enjoy!