BBQ Pork Floss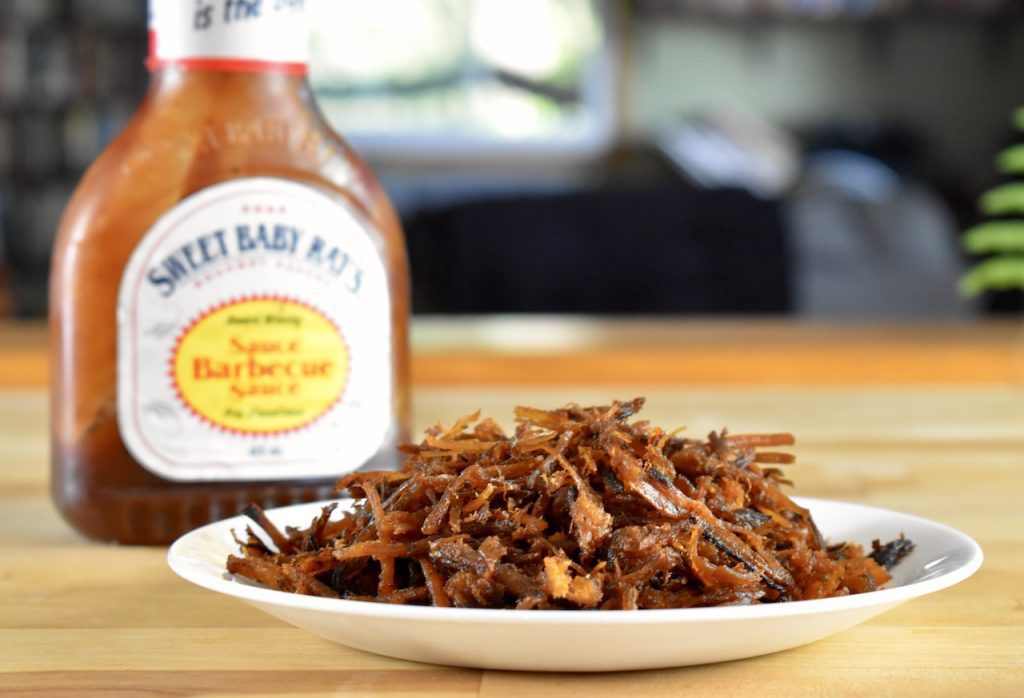 This pork floss is made in the classic Chinese or Southeast Asian style, but with BBQ sauce and seasoning, making it a fun and unique topping or condiment. 
The pork comes out fluffy with sweet and salty flavours. It is basically meat candy! 
Use as a topping for rice or potatoes, along with eggs for breakfast, on a sandwich with white bread, or anywhere you'd use pork floss in an Asian recipe calling for it. 
Prep Time

20 min

Cook Time

1 hr 40 min

Total Time

2 hr

Yield

2 cups
Ingredients
For the poaching liquid
.5lb-1lb (225g-454g) piece lean pork leg or loin
1 small onion
2 garlic cloves
1 tablespoon (15ml) BBQ rub
1 teaspoon (5ml) seasoned salt or kosher salt
6 cups (900ml) water
For the floss
2 tablespoons (30ml) BBQ sauce
1 tablespoon (15ml) BBQ rub
1 teaspoon (5ml) Worcestershire sauce
3 tablespoons (45ml) poaching liquid
2 tablespoons (30ml) brown sugar
1/2 teaspoon (2.5ml) black pepper
2 tablespoons (30ml) lard or oil
Preparation
1
Put the poaching ingredients in a pot and bring to a low simmer. 
Simmer on low for 45 minutes. 
Remove the pork and set aside to let cool.
Set aside 3 tablespoons of the cooking liquid. You can save the rest for soup, or broth. 
2
Once the pork has cooled, use your fingers or two forks to shred the pork into very thin threads.
Once you tear the meat apart, you'll see that it can be separated into these threads. 
Discard any pieces of fat attached to the meat.
Keep going until the entire piece of pork has been transformed into a pile of thin meat threads. 
3
Dump the meat threads into a bowl and add the floss ingredients, except for the oil. 
Mix well. 
4
Heat the oil in a stainless steel or cast iron skillet over medium high heat.
Add the pork mixture and sauté, stirring very regularly for about 10 minutes. Turn down the heat if it looks like it wants to burn. 
After 10 minutes, reduce the heat to the lowest setting and cook, stirring every 5 minutes or so for about 40 minutes, or until the floss is dry, fluffy, and nice and toasty. 
While stirring, use the spoon to mash the pork threads with a heavy hand, breaking them down even further.
5
Once the pork is completely dry and fluffy, remove from the heat and let cool. 
Serve on rice, with eggs for breakfast, over potatoes, on a sandwich, or in any Asian recipe calling for pork floss. Enjoy!