Cheesy Lake Fish Tteokbokki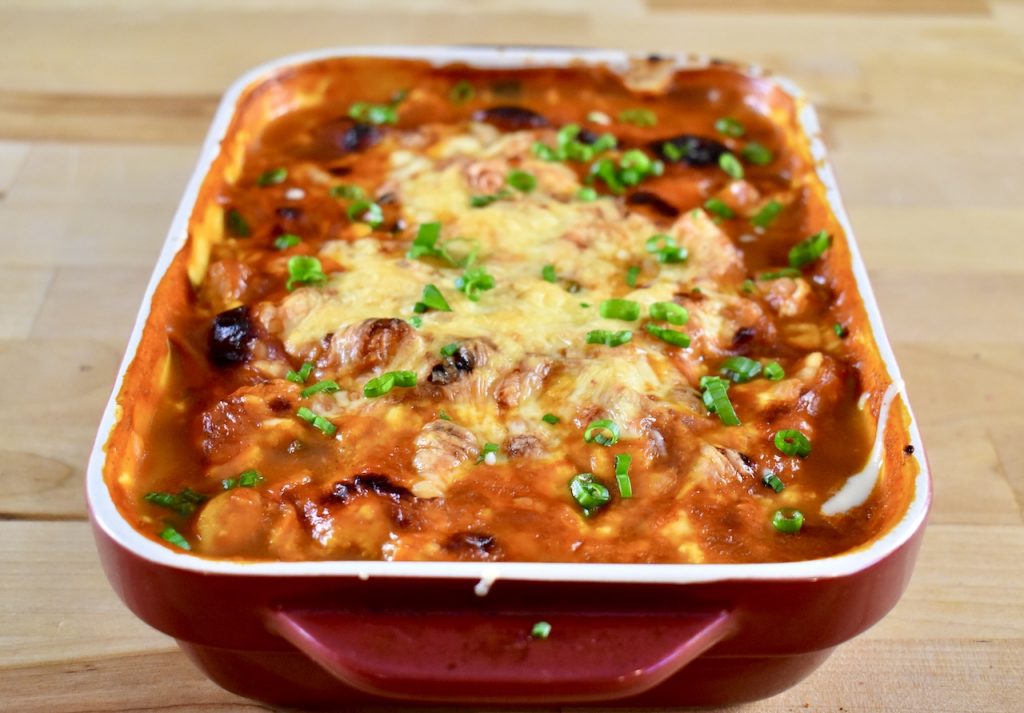 This dish was inspired by Korean late-night street food that is enjoyed by the younger generations. The traditional sweet and spicy dish of saucy tteokbokki (a thick rice cake or stubby noodle), gets topped with melted cheese to make it even better. 
The result is a lasagna-esque casserole that will please just about anyone. 
Some versions come with seafood, so I decided to make mine with chunks of lake fish instead; walleye in this instance. 
You're going to have to hit up a large Asian grocery store or Korean H-Mart for the ingredients to this dish (gochujang – spicy fermented paste, gochugaru – Korean chili flakes, instant dashi granules, and the tteokbokki which will likely be found in the freezer section), but it is WELL worth it, trust me!
If you don't have any wild caught lake fish lying around, feel free to make this with basa, tilapia, sole, or any other store-bought white fish. 
Prep Time

15 min

Cook Time

30 min

Total Time

45 min

Yield

4 servings
Ingredients
2 cups (500ml) dashi stock or light fish stock
2 tablespoons (30ml) gochujang
2 tablespoons (30ml) soy sauce
2 teaspoons (10ml) sesame oil
2 tablespoons (20g) brown sugar
1 teaspoon (2g) gochugaru chili flakes
1lb (454g) thawed frozen or fresh tteokbokki (rice cakes)
1lb (454g) skinless/boneless lake fish fillets (walleye, perch, bass, pike, catfish, crappie, etc.), cut into large bite-size chunks
1-2 cups (80-160g) shredded mozzarella cheese (depending on how cheesy you like it)
3 scallions, sliced
Preparation
1
Preheat oven to 400°F (200°C, gas mark 6).
2
Add the dashi or fish stock to a pot over medium high heat. 
Stir in the gochujang, soy sauce, sesame oil, brown sugar, and gochugaru chili flakes to the stock and simmer down until reduced by half, about 5-8 minutes. 
3
Add the tteokbokki rice cakes and cook for 2 minutes. 
Add the fish and cook for 1 more minute. 
Pour everything into a small casserole dish, then sprinkle over all of the cheese. 
4
Put the casserole into the oven, uncovered, and cook for 20 minutes. 
Switch to the broiler, and broil for 5 minutes, watching the whole time, to get some charred spots on top. 
Take out of the oven and sprinkle with the scallions. 
5
To serve, spoon out onto plates like lasagna. Serve with kimchi and fresh cut vegetables. I like to fry the fish skins I removed and serve them alongside as well. Enjoy!