Creamy Miso Soup with Salmon and Hake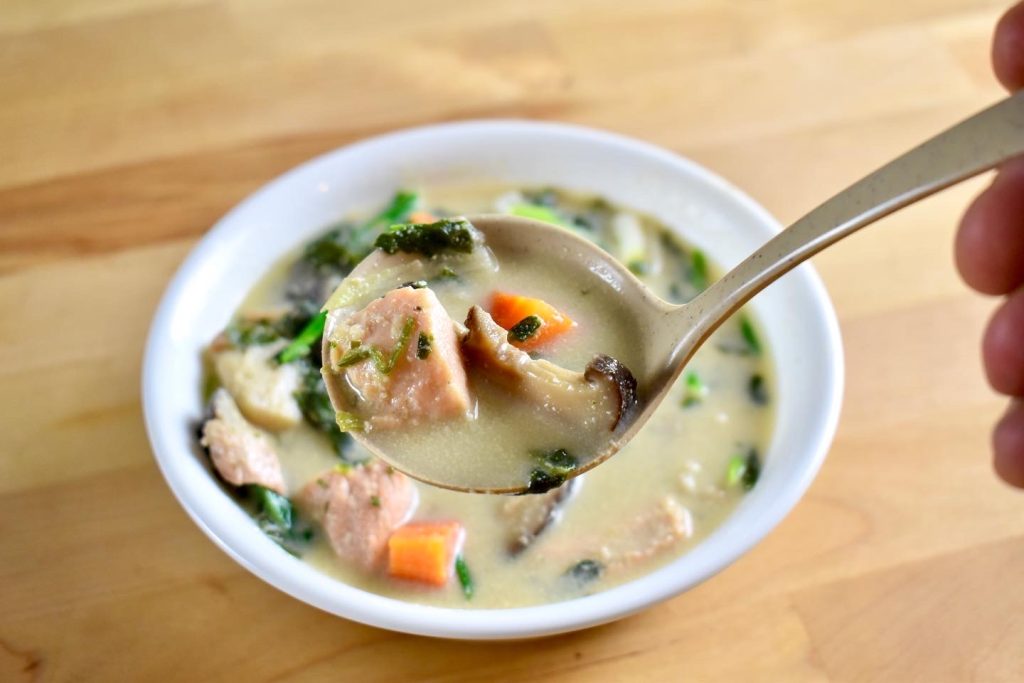 This creamy miso soup with salmon and hake is a creamy and comforting twist on the milky miso soup you might find in a sushi restaurant!
You could use instant dashi granules to make this soup faster, or use my basic dashi recipe to make your own umami infused base for this soup. 
Prep Time

45 min

Cook Time

15 min

Total Time

1 hr

Yield

4 light servings
Ingredients
8 dried shiitake mushrooms
4 cups (1L) dashi stock
2 tablespoons (30ml) mirin
2 tablespoons (30ml) sake
2 tablespoons (30ml) white miso paste
1 large carrot, peeled and cubed
1 3″ (6cm) piece daikon radish, peeled and cubed
1 cup chopped frozen spinach OR 2 cups fresh
12oz (340g) fresh skinless salmon fillet(s)
6 oz (170g) fresh hake fillet(s) OR other white fish
1/2 cup (125ml) cream OR soy milk
2 scallions, sliced
Preparation
1
Boil 2 cups (500ml) of water. Add the dried mushrooms to a bowl, and pour over the hot water.
Let soak for as long as possible; at least 30 minutes, but even better for a few hours. 
2
Add the dashi stock to a large pot over medium heat. 
Add 1 cup (250ml) of the mushroom soaking liquid. 
Whisk in the mirin, sake, and miso paste. 
3
Snip off the stems of the soaked mushrooms, slice them, then add them to the pot. 
4
Add the carrot and daikon cubes. 
Cook at a gentle simmer until the vegetables are tender, about 6-8 minutes. 
Add the spinach and cook for 2 minutes. 
Add the fish and cook until just done, another 2-3 minutes. 
5
Take off the heat and stir in the cream and scallions. 
Serve immediately. Enjoy!