Gulf Chicken Machboos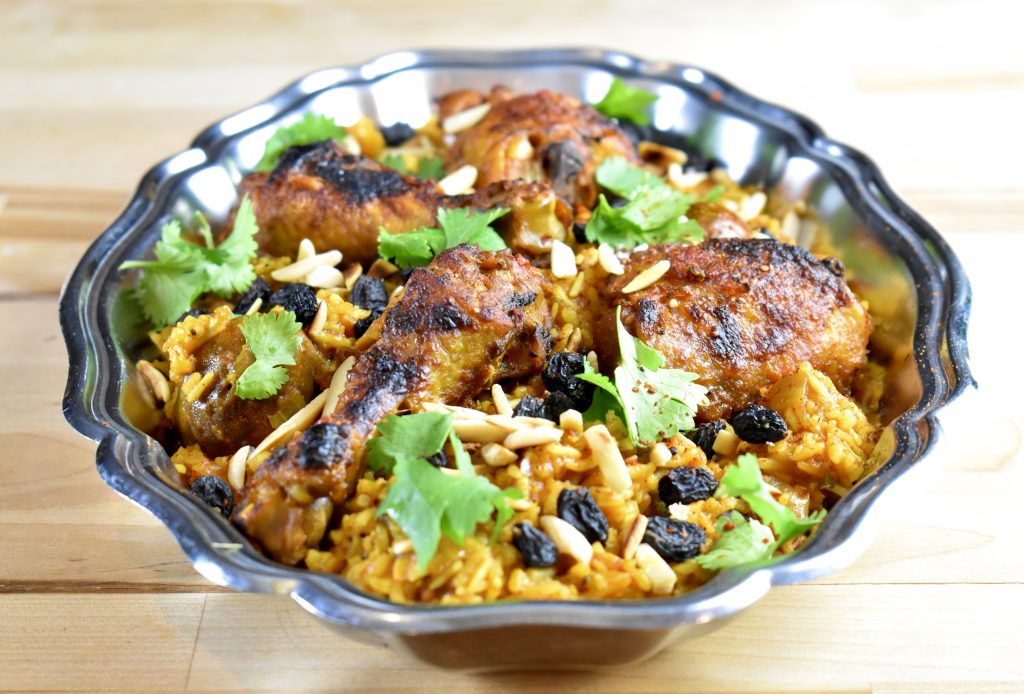 This beautiful and flavourful dish from the Gulf peninsula isn't a quick and easy weeknight dinner, but it is well worth making if you have the time and inclination. The warm spices will make your kitchen smell intoxicating while it's cooking. The baharat spice mix and dried limes (loomi) are very important to the dish and shouldn't be left out. You can find both barahat and loomi in most middle eastern and some Indian grocery stores and boutiques, as well as online. I've given instructions on how to make my version of baharat, and you could also go online to learn how to make your own dried limes if you can't find them anywhere. I use a Dutch oven to make this, due to its thick sides and bottom, that transfer heat slowly and steadily, but you could really use any large pot, just know that the cooking times may be a little off. 
Prep Time

30 min

Cook Time

1 hr 30 min

Total Time

2 hr

Yield

Serves 2-4 with leftovers
Cuisine

Course

Cooking Method

Special Equipment

Mortar and pestle or spice grinder

Difficulty Level
Ingredients
1 tablespoon vegetable oil
2 chicken legs, broken into drumsticks and thighs (you can add one or two more chicken legs to increase number of servings)
Kosher salt
Freshly cracked black pepper
1 tablespoon butter
1 large onion, chopped
1 thumb-sized piece of ginger, minced
1 jalapeño or chili pepper, minced (de-seeded if you like it less hot)
4 garlic cloves, minced
1 tablespoon tomato paste
Baharat spice mix
1 cinnamon stick
3 bay leaves
2 dried limes, poked through a few times with a fork
5 whole cardamom pods
1 tablespoon cilantro stems, chopped
14 oz (400mL) can of chopped tomatoes
2.5 cups (750mL) water
1 cup uncooked basmati rice
1/4 cup slivered almonds
1/4 cup raisins
1/4 cup cilantro leaves
1/2 teaspoon rose water (optional)
For the Baharat spice blend
5 whole cloves
1/2 teaspoon black peppercorns
1/2 tsp cardamom seeds (without the husk)
1/2 teaspoon coriander seeds
1/2 teaspoon cumin seeds
1/2 teaspoon smoked paprika
1/8 teaspoon ground nutmeg
1 teaspoon turmeric powder
Preparation
For the baharat
1
Grind the whole spices in a mortar or with a spice grinder. Mix in the ground spices until everything is well blended. Set aside. 
For the machboos
1
Heat the oil up in a Dutch oven on medium high heat. 
Season the chicken legs generously with salt and pepper and add them to the hot oil. 
Brown the chicken legs for 7-10 minutes, or until they're golden brown. Reduce the heat if they begin to look like they may burn. 
2
Remove the chicken and set aside on a plate. 
Turn down the heat to medium and add the butter and chopped onion. 
Sauté the onion until it begins to turn golden, with dark brown edges, about 10 minutes or so. 
3
Add the ginger, jalapeño, and garlic and sauté for another 2 minutes. 
Add the tomato paste, all of the baharat spice mix, cinnamon stick, bay leaves, dried limes, cardamom, and cilantro stems and sauté for another 3-5 minutes, stirring constantly. You are aiming to slightly brown the tomato paste and bloom the spices here.
Add the can of chopped tomatoes and all of its juices and the water. Bring to a boil, then reduce to a low simmer. Cover and simmer for about 1 hour. 
4
Meanwhile, put the rice in a bowl and cover with water. Let soak while the chicken is cooking. 
5
After the chicken has cooked for an hour, remove it from the pot to a plate and set aside for the time being.
Drain and rinse the rice, then mix it into the liquid in the Dutch oven. Cover and cook on low for 20 minutes. 
While the rice is cooking, you can toss the almonds in a dry frying pan over medium heat until they develop a golden colour. Set them aside. 
6
When 20 minutes has elapsed, take the rice off the heat, but leave it covered. 
Put the chicken on a baking tray and put about 10 inches under the broiler in the oven for 5 minutes or so to crisp it all up. Watch it the whole time, as this can burn the chicken very quickly if you stop paying attention. 
7
Uncover the rice and fluff it up with a fork. I like to leave the whole spices in for visual affect, but you can remove them if you prefer.
Transfer it to plates or a large serving plate and lay the chicken pieces on top. 
Scatter the toasted almonds and raisins over top, as well as the cilantro leaves. 
If using, sprinkle the rose water over everything.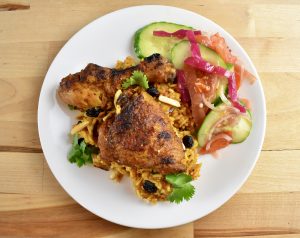 Serve with a simple salad. Enjoy!