Kale, Ham, and Leek Pasta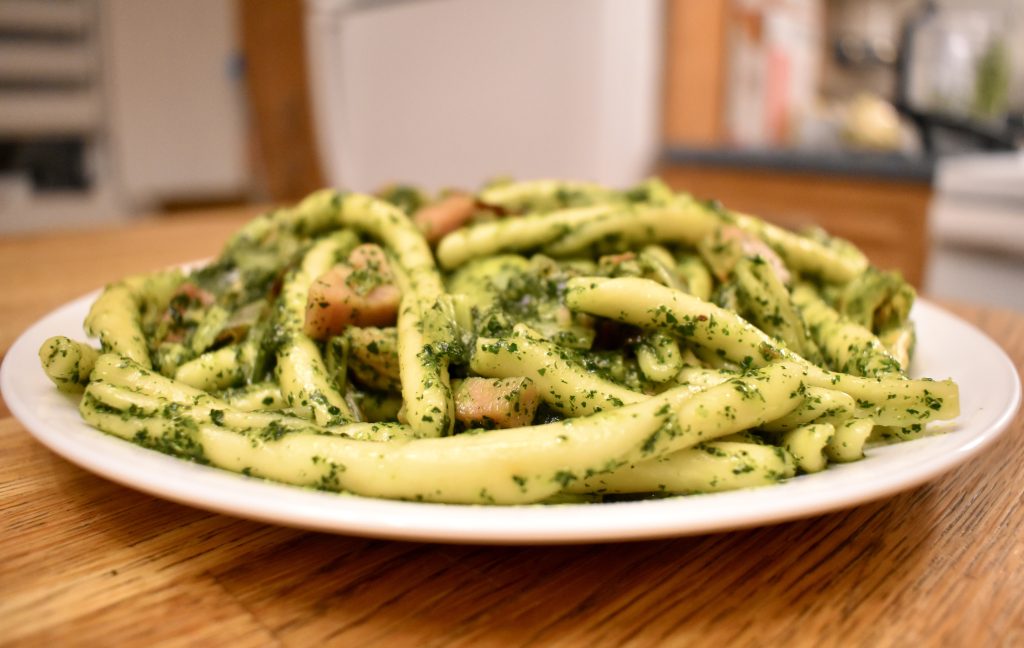 This is an easy and elegant pasta that uses kale more like a pesto than a vegetable. 
If you can find good cooked Italian ham, then definitely use that, but any thick cooked ham will work. 
If leeks are proving hard to find, simply replace them with a large chopped onion. 
Prep Time

30 min

Cook Time

30 min

Total Time

1 hr

Yield

4 Servings
Ingredients
1 bunch Tuscan (Black, Lacinato, Dinosaur) Kale
Kosher salt
6 cloves garlic
1/4 cup (60ml) mild olive oil
1/2 cup (125ml) grated Parmesan cheese
1 tablespoon (14g) butter
1/2lb (225g) prosciutto cotto, or regular ham
1 large or 2 small leeks
1/2lb (225g) pasta (I used fileja shape)
Preparation
1
Bring a pot of salted water to boil.
De-stem the kale and peel the garlic. Chop half of the garlic. 
Add the kale and the whole cloves of garlic to the boiling water and cook for 2 minutes. 
Drain and cool down the kale with cold water. Drain well. 
2
Chop the kale and garlic roughly and add to a blender or food processor with the chopped raw garlic, olive oil, and Parmesan cheese. 
Blend until smooth and set aside. 
3
Roughly chop or cube the ham. 
Cut the ends and green tops off of the leeks, then slice in half lengthwise. Run under cold water, leafing through the layers to be sure there is no hidden dirt or grit. 
Slice into half moons, about 1/2″ thick. 
4
Add the butter to a large skillet over medium high heat. 
Add the chopped ham and leek and cook for about 8 minutes, or until soft and beginning to develop colour. 
Meanwhile, cook the pasta just short of al dente. 
5
Once the pasta is ready, add the noodles and about 1 cup (250ml) of the cooking water to the ham and leeks. 
Cook, stirring, until pasta is done to your liking and the liquid has reduced to a clinging sauce. 
Take off of the heat and add the puréed kale, stirring it in well.
6
To serve, spoon onto plates and shower with more grated Parmesan. Enjoy!