Maitake XO Noodles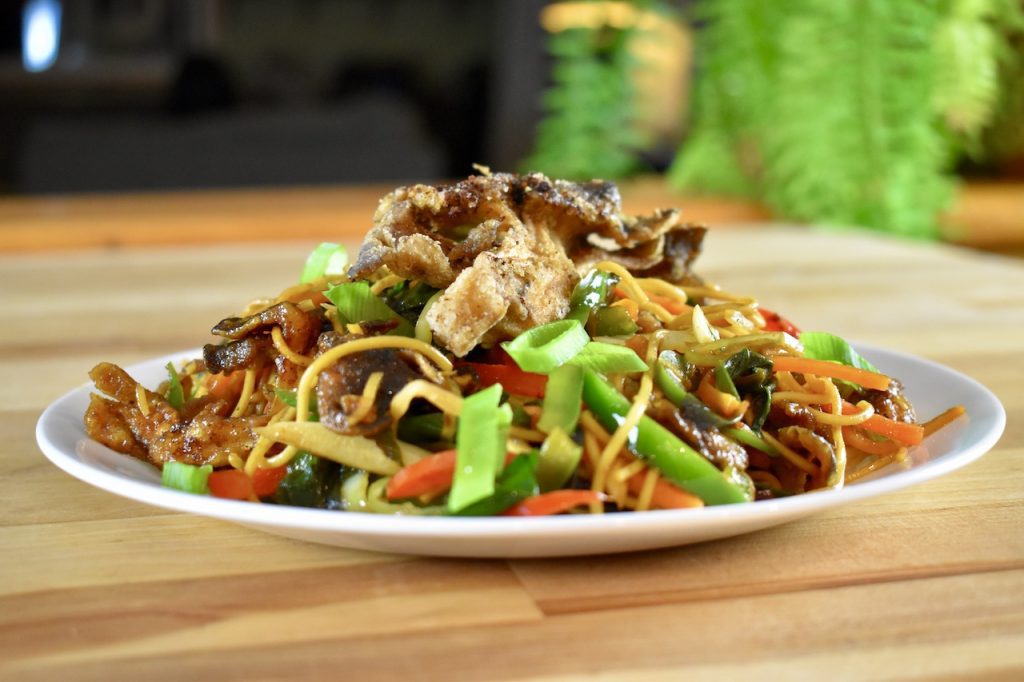 These maitake XO noodles are made with wild maitake or hen of the woods mushrooms (Grifola frondosa) which get deep fried, then stir fried with XO sauce using a classic Chinese cooking technique. 
The fried mushrooms soak up the sauce while maintaining some of their crispiness. 
The XO sauce and mushrooms both bring a ton of umami flavour to this dish! 
Prep Time

20 min

Cook Time

20 min

Total Time

40 min

Yield

4 servings
Ingredients
8oz (225g) fresh chow mein noodles
8oz (225g) maitake/hen of the woods mushroom
4 tablespoons (40g) corn starch
1 teaspoon (1.5g) ground Sichuan peppercorn
1/2 teaspoon (1.5g) kosher salt
1/2 teaspoon (1g) black pepper
Vegetable oil to fry
2 tablespoons (30ml) XO sauce
1 tablespoon (15ml) dark soy sauce
2 teaspoons (10ml) light soy sauce
2 tablespoons (30ml) vegetable oil
1 tablespoon (15ml) ginger paste (or minced ginger)
1 tablespoon (15ml) garlic, minced
1 cup (90g) shredded carrot
1 cup (340g) shredded cabbage
1 cup (150g) sliced bell peppers
2 cups (75g) spinach
2 scallions, sliced
Preparation
1
Bring a pot of water to the boil. Add the noodles and blanch for 1 minute. 
Drain in colander and rinse with cold water to prevent stickiness. 
2
Break the mushrooms into large-ish bite sized pieces. 
Combine the cornstarch, salt, Sichuan, and black pepper in a bag or container. 
Run the mushrooms briefly under water and shake dry. Now toss them in the corn starch mixture so they all get lightly coated. 
3
Pour about 1″ (2cm) of oil into a skillet. Heat to 350°F.
Fry the mushrooms in 2 batches, for about 2.5 minutes per side, or until they get crispy and golden. 
Transfer to a rack over paper towels to drain. 
4
Combine the XO sauce and soy sauces in a bowl and stir well. Set aside. 
5
Heat the 1 tablespoon of oil in a wok or skillet over high heat. 
Add the ginger and stir fry for 30 seconds. Add the garlic and the rest of the vegetables except for the scallions. Stir fry for 2 minutes. 
6
Turn down heat to medium and add the other tablespoon of oil, the fried mushrooms (keep a couple aside for garnish if you wish), and noodles. 
Stir fry for 1 minute, then add the sauce. Toss everything together with tongs until the sauce is coating everything. 
Take off the heat. 
7
Divide the noodles evenly between plates and top with a piece of fried maitake and a sprinkling of scallions for garnish. Serve immediately. Enjoy!