Vietnamese Pheasant Meat Floss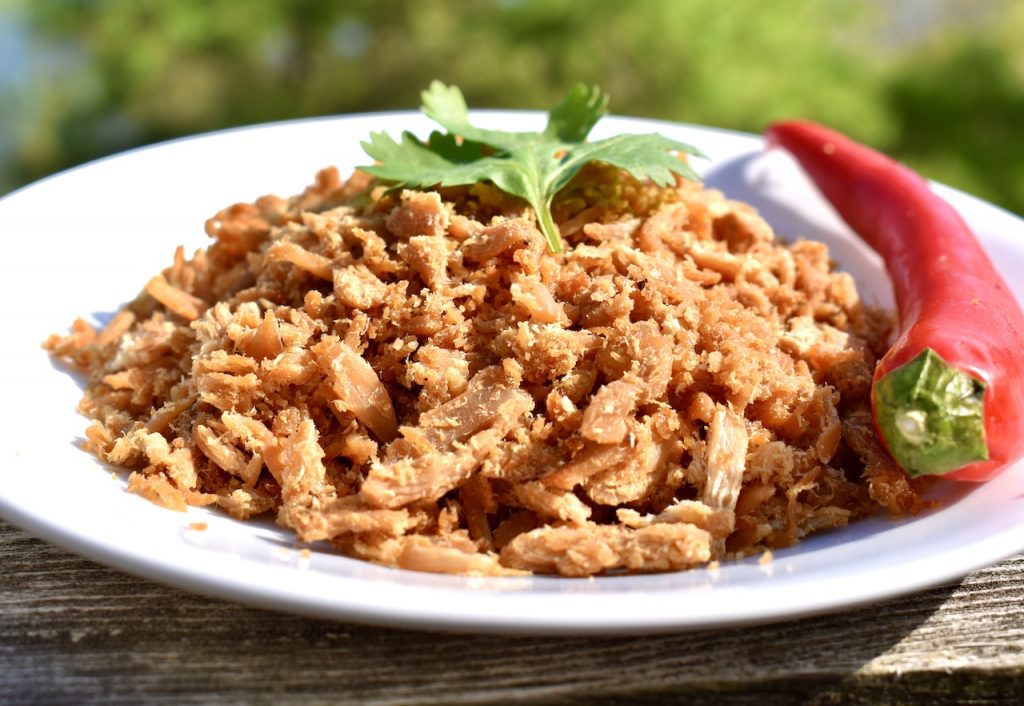 Meat floss, or rousong, is a dried meat product resembling coarse cotton (floss) that originated in China, but now can be found in many parts of east and southeast Asia. It is most often made with pork.
This version follows a Vietnamese style, where meat floss is often made from chicken or fish as well as pork. I made mine with pheasant breast, which worked wonderfully.
Despite the off-putting name, meat floss is absolutely delicious, coming across somewhere between beef jerky and meat candy. 
The process is a relatively long one, so be sure to make it on a day where you'll be close to the kitchen for much of the day, ideally making something for the floss to go with! 
Enjoy the floss with plain rice or with any Asian recipe that calls for pork or chicken floss. 
Prep Time

10 min

Cook Time

1 hr 20 min

Total Time

1 hr 30 min

Yield

1 heaping cup

Energy

0 cal
Cuisine

Course

Cooking Method
Ingredients
For the poaching liquid
1 pheasant breast, boneless and skinless
1 scallion/green onion, trimmed
1 clove garlic, peeled
1 half inch piece ginger
1 star anise
1 tablespoon (15ml) soy sauce
1 tablespoon (15ml) Shaoxing wine or sherry
3 cups (750ml) water
For the floss
1 tablespoon (15ml) fish sauce
1 tablespoon (15ml) soy sauce
1 teaspoon (5ml) oyster sauce
1 tablespoon (12g) white sugar
1 tablespoon (12g) brown sugar
1/4 teaspoon (2g) white or black pepper
2 tablespoons (30ml) poaching liquid
2 tablespoons (30ml) oil or rendered pheasant fat
Preparation
1
Put all of the poaching ingredients in a pot and bring to a very low simmer. 
Simmer for 30 minutes. 
Remove pheasant breast and set aside to let cool. 
Set aside 2 tablespoons (30ml) of the poaching liquid. You can save the rest for other recipes. 
2
Once cool, use fingers or a fork to shred the pheasant breast into very thin threads.
In a bowl, mix together the fish sauce, soy sauce, oyster sauce, sugars, and pepper, then add the shredded breast and mix well. 
3
Heat up the oil in a stainless steel or cast iron pan over medium high and the add the meat mixture. 
Cook, stirring regularly for 10 minutes. 
Lower the heat to the lowest setting and cook, stirring every 5 minutes or so, for another 40 minutes, or until the meat is dry, fluffy, and toasted. 
While it is cooking, use a spoon to mash and bash the meat, breaking it down further into even smaller threads. 
4
Serve with xoi man, white rice, or other dishes that use meat floss. Enjoy!