Bacon Creamed Swiss Chard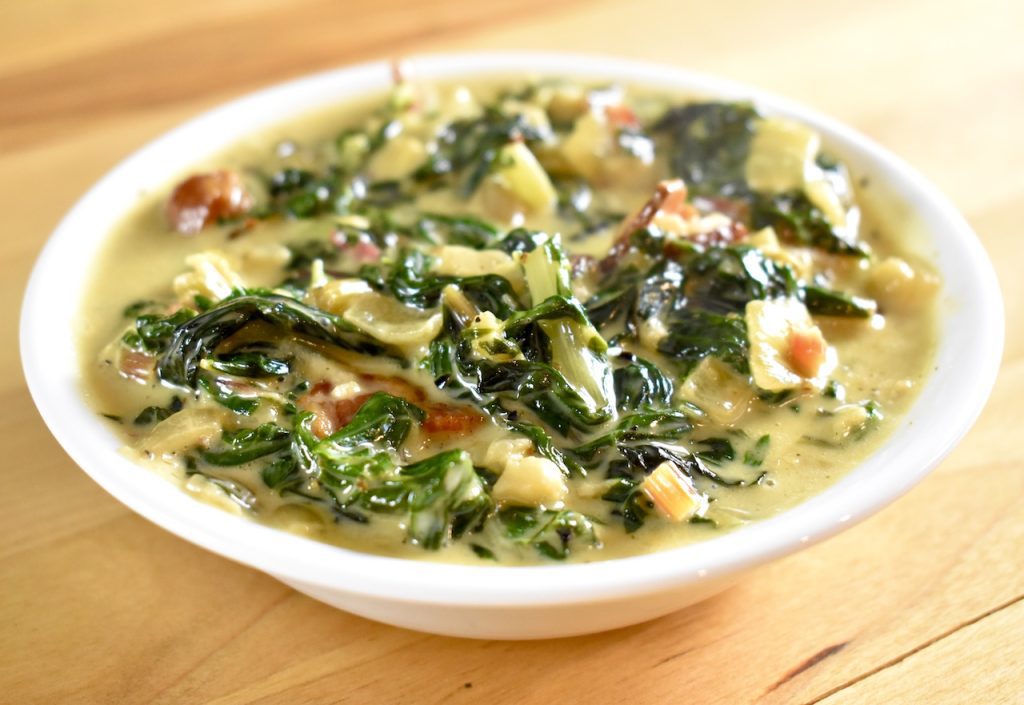 This bacon creamed Swiss chard is the perfect side to make when your garden or grocery bag is brimming with fresh, leafy goodness!
Prep Time

10 min

Cook Time

25 min

Total Time

35 min

Yield

4 servings as a side
Ingredients
3 strips thick-cut bacon
1 medium onion, chopped
2 cloves garlic, minced
1 bunch Swiss chard
1/2 cup (125ml) heavy cream
1/4 teaspoon (1g) nutmeg
1/4 cup (60ml) grated Parmesan cheese
Kosher salt
Black pepper
1 teaspoon (5g) butter
Preparation
1
Cook bacon in a deep skillet over medium heat until crispy. Remove from the grease, let cool, and chop. Reserve bacon grease in pan. 
2
Add the onion to the bacon grease over medium heat and cook for 4 minutes. 
Meanwhile, cut the stems off of the Swiss chard and chop them. Slice the leaves into ribbons. 
Add the garlic and chopped chard stems to the onions and cook for 8 more minutes. 
Add the leaves and cook for 5 more minutes. 
3
Add the chopped cooked bacon, cream, nutmeg, cheese, and cook on medium low heat until the liquid thickens enough to coat the greens. 
Stir in the butter until it melts. Add salt and pepper to taste. 
4
Serve alongside any main, I loved it with my sheet pan bass dish. Enjoy!